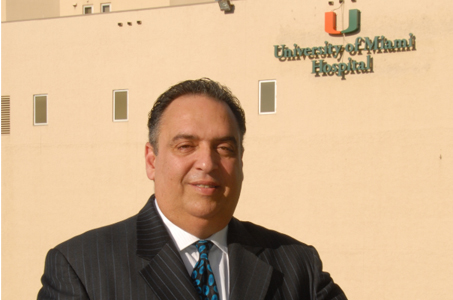 Dr. Rafael Antun, MD trained in da Vinci Prostatectomy
Dr. Rafael Antun is an urologist, who for more than 15 years has had special interest in female urology. He received his training in general surgery at Nassau County Medical Center in New York and his urology training at the University of Miami/ Jackson Memorial Hospital. After completing his urology residency he joined the Department of Urology as a faculty member, where he concentrated his practice on female urology and was in charge of renal trauma at the Ryder Trauma Center. He remained in this position until 1997 when he opened his private practice.

Dr. Antun also received training in Laser Vaginal Rejuvenation® and Designer Laser Vaginoplasty® at the world-renowned Laser Vaginal Rejuvenation Institute of Los Angeles, and is a certified Associate of the Laser Vaginal Rejuvenation Institute of America (LVRI of America). Only physicians trained at the LVRI are certified to perform Laser Vaginal Rejuvenation® and Designer Laser Vaginoplasty® .

Dr. Antun has held medical staff positions, including Chief of Surgery, Chairman of Credentials Committee, and Chief of Staff at Cedars Medical Center, now University of Miami Hospital, as well as Medical Director of the Urinary Incontinence and Urodynamics Center at Doctors Hospital. He currently holds affiliations with Doctors Hospital, University of Miami Hospital, and Kendall Regional Medical Center, and is the Director of the South Florida Institute for Laser Vaginal Rejuvenation.

Dr. Antun has conducted research on treatments for numerous illnesses that affect the urinary tract and genital system. He has written publications for several medical journals and has lectured extensively in the U. S., Europe and Latin America. Dr. Antun has also participated in pro-bono medical activities in Nicaragua, Peru and Dominican Republic.

He is a recognized community leader for his humanitarian efforts towards the betterment of Latin Americans living at home and in South Florida. He is the recipient of various awards, including the proclamation of Dr. Rafael Antun Day on June 24, 1995 by the Board of County Commissioners of Miami-Dade County. He was named professor of the year in the Department of Urology at the University of Miami in 1993, and in 1997 was recognized by New York City's Mayor Rudolph Giuliani as one of the most outstanding Latin Americans residing in the U. S. Dr. Antun is most proud of the Cross of Honor and Merit of Duarte, Sanchez and Mella, which he received in 1993. This is the highest honor that can be bestowed by the President of the Dominican Republic.

Dr. Antun resides in Miami with his wife, Dr. Mayda Antun. They have two children, Rafael Antun, Esq. and Jacqueline.